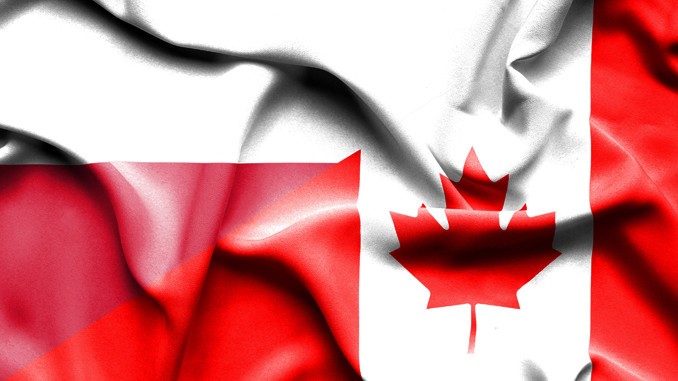 The following is the detailed program of the visit of the Canadian-Polish delegation in Warsaw, where it will honour the participation in the Second World War of the Polish Armed Forces in the West and the brotherhood of arms between the Canadian and Polish soldiers.
Canadian participants, Captain Barry Sheehy (Canadian Armed Forces, retired), Captain Matt Sheehy (Air Canada pilot, 30 years seniority, retired) and Paul Sheehy, are coming to Poland also to celebrate the continuing Polish-Canadian alliance in the ranks of the NATO.
PROGRAM OF OFFICIAL EVENTS:
Warsaw, Tuesday, October 2nd 
Polish-Canadian soiree, Dom Pielgrzyma Amicus, 6:30 pm
Captain Barry Sheehy (CAF veteran) and Captain Matt Sheehy (Air Canada pilot) will speak about the history of Canadian-Polish friendship born during the armed struggle for the liberation of Europe. The event will be moderated by Aleksander Rybczyński, an émigré poet and journalist living in Toronto.
Warsaw, Wednesday, October 3rd 
Laying of wreaths, Polish-Canadian Brotherhood of Arms Memorial, Matejko Street, 12:00 pm (noon)
The memorial consists of two boulders, one from Canada and the other from Poland. Dedicated to the memory of Polish and Canadian soldiers fighting jointly during the Second World War, it was unveiled in 1999 in front of the Canadian Embassy building.
Laying of wreaths, 1st Polish Armoured Division of General Stanislaw Maczek Memorial, Polish Army Avenue near the Invalids Square, 1:30 pm
Thursday, October 4th
Visit to the Frederic Chopin Museum at Żelazowa Wola, 11:00 am to 12:00 pm
Sochaczew
Laying of a wreath at the war cemetery of the Polish Army soldiers killed in September 1939, 12:30-1:00 pm
Visit to the Museum of Sochaczew Region and the Bzura Battlefield, 1:30-2:30 pm