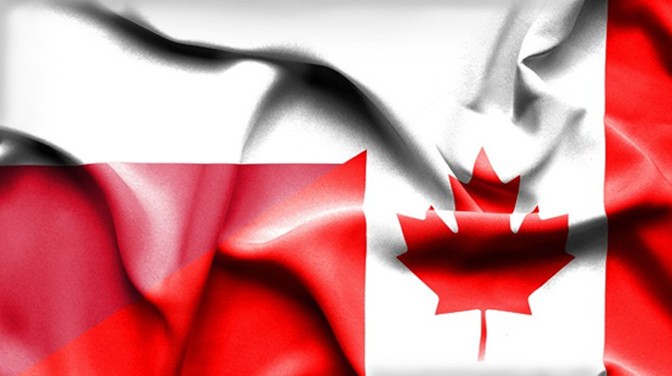 Honouring Canadian-Polish Friendship in War and Peace
This wreath-laying concept was born on the slopes of Mont Ormel in Normandy, where some years ago I stood on the ground where the 1st Polish Armored Division, the Winged Cavalry of the First Canadian Army, closed the Falaise gap and ended the bloody Normandy campaign. They did so in the face of attacks from elements of seven German Divisions including II SS Panzer Corps. The fighting here was some of the most savage of the war. For a time, the Poles were cut off and isolated but refused to give ground despite repeated assaults. Sealing the Falaise gap trapped the bulk of the German army in Normandy. As a soldier, I marveled at the bravery and grit of the Poles. This led to an interest in the larger role Poland played in World War II. And what a role it was, on land, sea and air. It also led to my writing a Remembrance Day article "No Greater Allies."
I was ashamed at how, despite its heroism and service in the war, Poland was abandoned by the West in the immediate post-war period.
As an historian, I knew well the role of the famed Winged Cavalry in lifting the siege of Vienna and saving Europe from Turkish invasion in 1683. I was also keenly aware of Poland's long struggle to maintain its independence and sovereignty in the center of a turbulent and often hostile Europe. As the grandson of Irish immigrants to Canada, I understood how difficult and long the struggle for independence can be. And finally, on a trip to Poland during the seventieth anniversary of the start of the Second World War, I witnessed an incredible sight: an entire nation united in its determination to protect its independence and freedom. Unlike much of the west, Poland does not take its freedom for granted. It values its participation in NATO where it again stands shoulder-to-shoulder with Canada.
More recently we have seen Poland adopt courageous but difficult decisions within the EU to protect its culture and national cohesiveness. These are not easy positions to adopt and hold within the EU. Is it possible Poland once again stands protecting Europe?
From the time of my moving visit to Mont Ormel, I have looked for an opportunity to honour Poland's role in defense of the west and celebrate its unique ties to Canada. I hope now that opportunity has arrived.
Project "General Maczek" is a privately-funded effort aimed at honouring the past and present alliance between Canada and Poland in World War II and today in NATO. This effort has been funded and supported by private individuals, army veterans, and Polish community organisations and churches across Canada. The goal is to lay two wreaths at the Cenotaph of the First Polish Armoured Division in Warsaw. The first will honour the men and women of Poland who played such a vital role in securing victory in World War II on land, sea and in the air. The second wreath will specifically honour the courageous role of the First Polish Armoured Division which served as the Winged Cavalry of the First Canadian Army in Normandy and through Northwest Europe. The goal is to enhance and strengthen Canadian-Polish relations by highlighting the bond, sealed in blood, between our two nations.
Captain Barry Sheehy CD (Ret)
Captain Matt Sheehy (Ret)
Aleksander Rybczynski, Polska Canada
The project has been approved by Polish officials.
The ceremony will take place in Warsaw on the 3rd and 4th of October this year, and it will be held under the patronage of the Institute of National Remembrance and its Chairman Dr. Jarosław Szarek.
The organisers would like to thank St. Michael's Polish Benefit Society from Sydney, Nova Scotia, and Mr. John Danch, Royal Canadian Legion and former President of Multicultural Association of Nova Scotia and Multicultural Council of Cape Breton for his support and endorsement of  "Project Maczek".