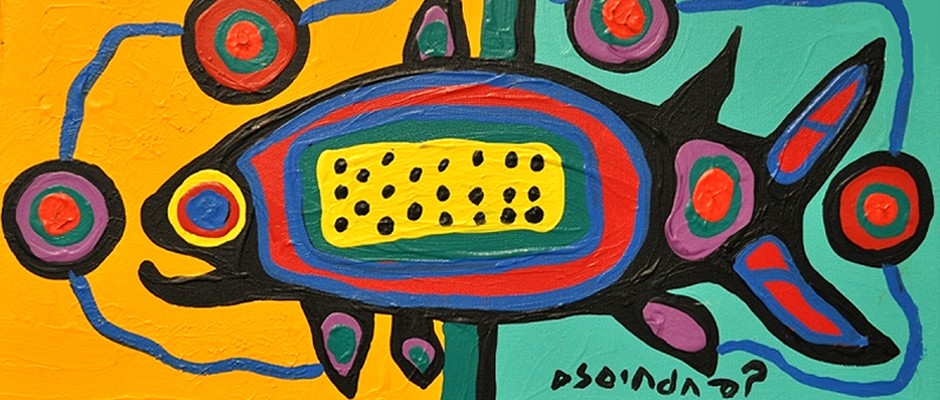 "I go to the inner places. I go to the source. I even dare to say, I go to the house of invention where all the inventors of mankind have been."
– cited by Donald C. Robinson in his introduction to Norval Morrisseau Exhibition: 'Honouring First Nations' (Kinsman Robinson Galleries, Toronto, 1994)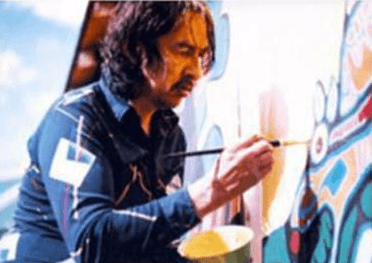 The artist Norval Morrisseau (Copper Thunderbird) is the first Eastern Woodlands artist to translate his culture (that of the Anishnaabe or Ojibway people) visually, through acrylic paintings, prints and drawings accessible to Aboriginal and non-Aboriginal people. He invented the pictographic style, now used by three generations of Aboriginal artists.
Morrisseau learned Anishnaabe cosmology from his shaman grandfather, a member of the Midewiwin religious society, and Christianity from his Catholic grandmother. He studied his Anishnaabe heritage intensively, becoming a shaman. His art draws upon Midewiwin birchbark scrolls, rock paintings and Anishnaabe decorative arts. In the 1970s, Morrisseau studied holistic Eckankar spirituality. Through his travels in Northern Ontario, and through the printmaking Triple-K Cooperative in Red Lake, he has influenced many First Nations artists, including Daphne Odjig, Carl Ray, Joshim Kakegamic, Roy Thomas, Saul Williams, and Blake Debassige. His published works include Legends of My People, The Great Ojibway (ed. Selwyn Dewdney) (Toronto, 1965).
One of seven children, Morrisseau was raised by his maternal grandparents Moses Potan and Vernique Nanakonagos. He left school after the fourth grade. He developed his art from 1959, while working in mining. Isolated from major urban centres, he became a full-time artist in the early 1960s. In 1963-66, Morrisseau enlarged the scale of his works and developed his pictographic style. Combining rich colours, he represents inner realities with strong flowing lines, often indicating spiritual forces. His art expresses his spiritual explorations and aspects of Anishnaabe culture (Untitled (Shaman), c. 1971), as well as his personal development. It reflects tensions between Aboriginal cultures and Christianity, shamanism, the interconnection between all living things and the importance of the family . In 1966 Morrisseau (with Carl Ray) created a mural for the Indians of Canada Pavilion at Expo '67 in Montréal.