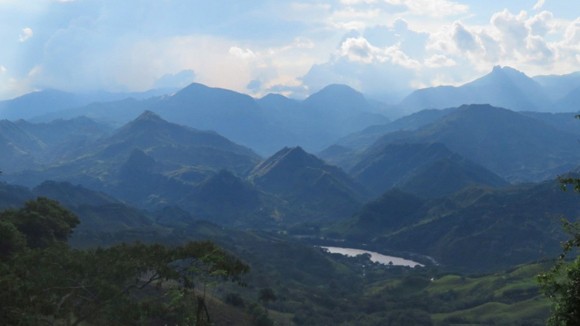 Around Nov 25, 2016, Colombia
After over a week or being a highway hero and riding downhill tires on the pavement it was time to hit the dirt. As is, I only had 12 days to reach Cali, leaving no time for some of the more adventurous routes but it's probably a good thing as Deadhorse is overloaded with all my extra stuff, winter gear and even laptop.
The clouds bring out great colors in the endless hills, house after house, pastures and milking stations. But what strikes me as unusual are the dogs. Well fed Colombian pups roaming these dirt roads, not following and not running. Some look at me funny, others ignore me. Some bark and others stop for some play. Who are these dogs and why do they roam the countryside?
I looked at the route I sketched quickly before I left, why do twice the distance and climb over a mountain when the pavement follows the valley? A big rock catches my eye from the distance so I take the long way. 270 degrees around the rock assures me that it is unclimbable but yet there is a jesus on top, they must have flown the statue up there.
It rains everyday now and at 2800m it can be quite cold. I wait out most of it under a small shrine and wonder about camping. It is all ranch land, cows, potatoes and onions, your best bet is to ask at a house to camp. At the edge of the valley I get a peak into Medellin but the smelly pig farms nearby make sleeping here undesirable.
A steep road goes to the valley bottom and a noisy and dusty bikepath next to the highway leads to Giradota. My plan was to get a cheap room here but the town center is just too busy. After some time in the mountains and the quiet this is too much. I just make a loop and leave in the dark I have not felt so out of place and scared for a while.
I asked Carlos if I can camp in his yard but he said no, there is a room in the house. Over coca cola we spoke Spanish and a little bit of English. He rents out his land for farming and has a small plant for making soil fertilizer from the more fertile land of Cali. His son had ridden a motorbike from here to Argentina.
"It's beautiful down there" he said.
In the morning I continued onto the misty climb out of the valley. Overloaded horses going down with the sugar cane payload and the constant hacking and slashing from the plantations by the road. A german shepherd walked up with me for half an hour until some other dogs scared him away. People and animals were giving me strange looks, why was this gringo here and not on the highway?