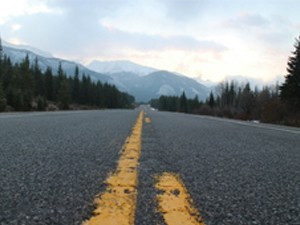 April 28, 2015 British Columbia (4km from Montana Border)
Although I wont be cycling until late June, I had 8 days to get from Montana to my work in British Columbia. Why not do the Canadian section of The Great Divide bike route? It isn't clear of snow but it's not like I've got anything better to do.
I spent the last few days with a warmshowers.org host in Montana that I met last year. Betty dropped me off just past the border and as I was getting ready a forestry worked drove down. After he realized I had no idea what I was doing, he asked:
"Have you even looked at a map?" 
"Yes," I actually did.
Last year.
 I knew there will be snow, it was just a matter of when. It's still 2 months before the Adventure Cycling Association recommends cycling the divde.
Then it got bad. But for the most part it was only a foot or so, allowing for slow but steady progress.
Aside from this 50m section, i had maybe another 200m of riding until i hit the bottom. Snow was deep, this whole thing didn't look too good. But i can't really climb back up now.
I remember doing this single track section last year. Really happy with the new setup. (As opposed to running 4 panniers, 26″ wheels and no suspension last year).
 Also really happy with the lack of snow on the road.
Up Cabin pass, its getting late but if i can make it to Butts cabin ill have a warm place tonight.
Then the snow started. It was ok at first but it got soft and deep quickly. The only thing making this hike-a-bike reasonable were some pretty old snowmachine tracks. But it was "like a box of chocolates: you never know what you're gonna get." The snow could be solid, a foot deep or you could sink in all the way and need to use hands to get back out… just to sink in on the next step.
Screaming out profanities really seemed to help. After all, there was nobody there to hear me…
So its getting dark and cold. My toes are numb and I am not even at the top. I really need to make it to the cabin or I'll have to camp at almost 6000ft.
There was no way I could wade my way – knee deep for another 15 miles. It's already 10pm. Time to work on some essential skills: sleeping in the cold and sleeping on an incline.
Rain and gusting wind woke me up at 6am. After two months in California, I was spoiled with good weather. I packed up in a hurry and headed down. Took me about 4 hours to clear the snowpack. I promised myself a rest day once I get to the cabin.
The first person I saw since yesterday – he was here to hunt bears. He had a bow in his jeep. I forgot to ask him what happens if he misses…
So this is what a tree-planting block would look like. I'll be doing that in a week.
1..2..3 steps. Open a hole with the shovel, put a seedling in, kick it closed, drop flag tape.
1…2…3…
Rinse and Repeat. 1500-2500 times a day.
Then I found some tree planters!
At the planter camp the largest dog I've seen in my entire life. The cooks gave me some treats! It would be cool to hang out at camp, in the middle of nowhere.
Sadly the cabin was occupied. So I decided to continue, can't turn down riding in sunshine!
There are still two more mountain passes: Flathead and Elk. Flathead would be possible – but still about 5-7hours of hiking. Elk would be even tougher. Since I only had cleated shoes and not enough time I decided to head toward Fernie and see which way to take from there.
A conservation officer let me have a look at his map. 80km till Fernie, might as well find a cool spot to camp.
Then some moose crashed the party. Not sure if its mating season but they were communicating with eachother making "moose sounds". I can't think which combinations of letters would best describe them. Sounded like "m…m…m…"
Headed up Harvey Pass, I was mentally preparing myself for the climb ahead but there never was one. Just gentle up and down on a plowed dirt road.
The mountains certainly look better with a bit of snow on top.
Then I got to an intersection but thats as far as the photo I took of the map can take me. Bummer. I sat down wondering which way to go and hoping a car would come by. The road was well used but I hadn't seen anything in the last 3 hours.
Straight took me toward Fernie. Bingo.
I found a nice powerline trail, since I strongly doubt I'll get to ride.. err walk the Elk Pass powerline.
Fernie, British Columbia
After an hour long recovery from a food-induced coma at A&W I made it four blocks down the street to Tim Hortons. Bam, a dozen doughnuts and a large coffee.
There are two options from here:
West – highway 93, which is paved and plowed.
East – hwy 40, an unpaved road with a 2000m pass, tagged online with "cyclists can enjoy car free ride in late may."
The wind was blowing east.
World's largest truck at Sparwood. Fuel efficiency: about 3 gallons per mile.
An obligatory shot with the bike here. I bet the Titan wouldn't have had problems with the snow like I did. But it's three times as wide of the road…
These hills have been mined, are being mined or will be mined in the future.
Teck Mining property, both sides of the highway.
Crowsnest Pass, I was expecting something more glamorous.
So, I see a bunch of goats on the left side of the road. Cool.
Contrary to common sense, they decide to run to the right – across the highway. I slam on the break and nearly fall, since I'm holding the camera with the other hand.
After the commotion they climb up and we exchange looks. Both wondering what just happened.
A 6k detour can get me closer to it. Definitely worth it, even if I have to freeze my ass off at this elevation.
On the way I asked 3 different people who stopped to talk to me about highway 40. Not that it would impact my decision to go there…
"It was a low snow year," was the best I got. It was a low snow year in Yosemite too! We'll see what happens. At least I wont be chased by rangers on cross-country skiis here…
Canmore is still 200km + from here. No guarantees on what's open and what's clear of snow. Grizzlies out and active!
Winter maintenance or no, logging is a big thing here. Logging block to the right, you can still smell the freshly cut trees.
Along the way I got a chance to balance the camera on a rock for a selfie…
 …and meet some Albertans. In some sections along the road, you would see tons of RV's and camps. People have set up camps as "vacation homes". Interestingly though, there wasn't much traffic.
There it was: the first bear of 2015! This one looks like Batman…they all do.
Forestry Trunk Road is definitely worth visiting.
LOL. Just LoL. Lots of Logs, good thing those trucks aren't moving them now.
After an unecesary difficult climb to the second pass with the headwind, it's time for the Kananaskis Trail.
This section of highway 40 is closed to motor vehicles until mid-June to protect the wildlife habitat. But that's for tomorrow, forecast for tonight: rain, headwind and mountains.
Today should be the last day, I need to make it to Canmore – some 100km away. I took off just before sunrise.
Looks like there is some snow. Time to stretch those walking muscles!
Snow kept getting deeper as I moved forward. There was a thin crust which sometimes supported my weight but for the most part it was pretty bad.
It kept getting worse and worse. 5-10 steps at most and then I'd need to rest. I tried going up at the treeline in hopes of easier progress.
Crossing the ditch meant going on all fours and crawling, then pulling the bike behind me. Up there it was great at times but waist deep between some trees.
Going back to the highway seemed impossible. I put the bike infront of me and slided down on my belly. That's what bikepacking is all about!
After seriously considering turning back and how bad it would be to retrack those ugly parts in the snow +30km of riding, I decided to keep going. Walking sideways with clipless shoes on a guard rail and pushing the bike beside me seemed to be the best thing to do.
I'd love to do a selfie at the sign but that would involve going into waist deep snow.
It's like a piece of heaven, it's a love song, it's a poem.
Tiretracks in the snow!  And it's all downhill from here.
Kananaskis Trail – what a ride…. err… walk. Took me 4 hours to clear that snowpack. I took a vow that my next encounter with snow will be on cross country ski or snowshoes.
Finally the spray-dorien trail. When I was here last year it rained and I rode in the dark for the last 25km. Time to see what I've been missing.
Seeing mazdas and KIAs rolling down the road made me feel a bit less badass but the scenery more than made up for it. Rolling hills but mostly downhill.
Speed limits on Canadian dirt roads are strictly enforced by wildlife. These sheep are loving the salt. Somebody told me in winter they would approach your car if you stop and lick it out of your tires.
They didn't seem to bothered by me either.
One of those beautiful lakes which will get filled up pretty soon from the spring melt.
The watchful protector, the silent guardian – welcoming me into Canmore. While descending the long, steep hill into town I couldn't stop thinking about a friend I met in Colorado. He did the great divide in fixed gear. What fun would that be!
Sadly, with only two days left before tree-planting, there was no way to ride the 700km to Prince George. Time to hitchhike with the bike!
After few hours of no luck at the ramp, I rode out to Banff National park. 30 minutes later I was on the road – all the way to PG.
 "Back in the day when I used to drive here, the glacier would be right up to the road," the Athabasca glacier has receded quite a bit over the last few decades. Buch has been driving this road many times, he is driving back from post stamp exhibition in Calgary.
Summers can be full of tourists and campgrounds at capacity, spring or fall would be the best time to visit on a bike – although it can be a bit chilly.
The current pine beetle epidemic started in 1990 and is spreading all throughout BC. It has already killed 50% of commercial lodgepole pine.
Bears are out and about, eating grass and skunk cabbage to get their tummies working.
Mount Robson – the tallest in the Canadian Rockies.
200km and eight bears later we made it into Prince George. There isn't much to see and do but people who live here like it. It's time to put the bike to rest, learn how to walk and plant some trees.
See you in July!