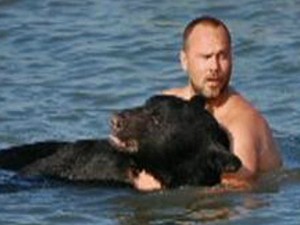 IS POSSIBLY ONE OF THE GREATEST RESCUE STORIES EVER!
In this particular story, a 400-pound black bear set out to follow his nose and wandered all the way from his home in Osceola National Forest to a residential area in Alligator Point, Florida.When he was discovered shuffling through one of the residents garbage, wildlife authorities set out to capture and return the bear back to his forest home…this is when things started to go horribly wrong.
Once the bear was located authorities attempted to sedate the bear–as a 400-pound, claw-weilding black bear is not exactly the most cooperative animal–this would be the safest way they could transport him back to his home. But the bear had other plans…
After being hit with a tranquilizer dart, the bear took off towards the ocean and hopped into the water.
As he was swimming out into the Gulf, the tranquilizers began to kick in and he became drowsy and started to drown.
Luckily, Adam Warwick, a biologist with the Wildlife Commission was nearby…
Without even flinching at the size and strength of the bear, Warwick grabbed a hold of the floundering animal.
The bear was beginning to lose feeling in his legs and struggled to crawl onto Warwick to stay afloat.
More information:
http://nativeamericansnews.net/2016/11/26/brave-man-saving-a-drowning-400-lb-black-bear-is-possibly-one-of-the-greatest-rescue-stories-ever/