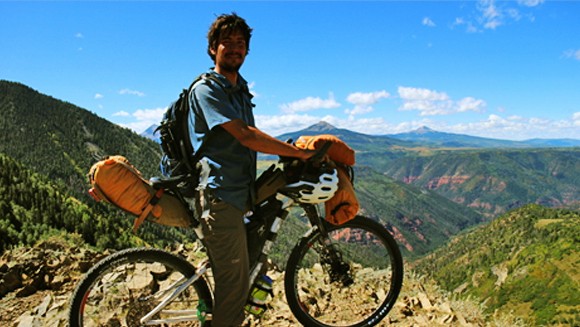 Then it was time to hit the Colorado trail, which was like a piece of art. Gently graded and well surfaced.
…and when it wasn't, I've got cliff bars to get me through.
As well as the 10-mile range which I crossed earlier on the Wheeler trail.
It's pretty much all downhill from here to town but it's not like I really need to be there.
Morning frost, it's September now. I better hurry south, my 40F sleeping bag won't be good for much longer.
Some "highway magic" on the way to Leadville.
Rolling along the countryside, looks like there's some rain headed my way.
Unfortunately CDOT is yet to come up with a sign for this… Looks like they are waiting for a car to come. Man… deer these days…
I've been getting super spoiled with sunshine but have forgotten how refreshing rain can be.
Even if you get soaked and cold.
Dear Google Maps.
You are awesome! (also, beware road riders!)
This surely doesn't include bikes…not that I am capable of breaking 15mph…
Then two good things happened, the rain stopped and I found an area map booth. One road offered a more direct route to Crested Butte. Road 759.
Road 759, I love you. The very thought of somebody driving any motorized vehicle here put a smile on my face.
To top it off, the descend into a valley had jumps along the way. What a treat!
"Alabaster! Alabaster! He didn't bother you, did he?"
My next door… err 'next pullout' nneighbor's big white dog was on the loose.
Crested Butte. Aside from the amazing breakfasts up in the Yukon and Alaska and one cafe in Montana, eating breakfast in town has been very dissapointing. This was no exception, two meal orders and still hungry I headed to the library to figure out where I'm going today.
I got a message from two friends I met in Utah, who are now cycling across america on a tandem and will be in a town only 30 miles from here.
I rode up Kebler and Ohio passes, in search of a quieter way to Gunnison but ended up getting quite muddy on the way.
"We passed a guy and he was smiling, thats iohan!" Bob and Carol had already made it into town. Carol runs a homeless shelter in Utah and is cycling to raise awareness. ( www.breakingthecycles.org ).
I stayed with a warmshowers host whom I met last year, enjoying a fine sunset with their dog: Bear.
Then I figured for a rest, I better ride up Monarch Pass with Carol. Bob got out of the truck just in time to take all the glory and fame of the climb!!!
Riding the tandem was a blast. I normally don't go even half as fast…
Morning ride with Bear at Hartmans Rocks in Gunnison. (if you are wondering I did walk my bike quite a bit… downhill…)
Beat the summer heat one puddle at a time. I almost joined him.
That amazing valley has a road cut all the way to the top. Didn't see it on the map but it's worth seeing if I can get to the end.
A family from Alabama is doing the american heritage trail.
"Amazing, inspiring and difficult." Is how they described their trip, but they were smiling when they said difficult so it doesn't count. They hope to move to Alaska soon.
Sadly the trail was closed to bikes. Spent 20 minutes wondering if I should hide the bike and go on foot. Let me tell you, deciding where to go is the hardest thing I've done the entire trip.
Three things make the perfect camping spot. A flat piece of ground, something to lean your bike and the sunset.
And of course, the stars.
Looks like another rainy day, I am actually looking forward to the heat in Moab!!!
Happy to declare that I only had to put a foot down twice, once while crossing a stream and again shortly after this picture was taken. (Much steeper and scarier than it looks!)
I bet that hiker is thinking: "if he dies… can I have his bike??" If you zoom in you can see him crossing fingers!
Sadly here was a casualty, I blame all these rocks that fly around everywhere.
Up another pass, playing tag with the rain, I was it.
Spent most of the day climbing but at a good grade and made some new friends along the way.
Private property both sides of the road, not sure if there will be anything at all for camping. I asked somebody if I can camp on their yard. They said yes, then asked me why I am going to Argentina. I mumbled an answer but I still don't know why. Gotta figure this stuff out someday…
Long downhill ride on pavement into Grand Junction. It was worth riding on crosswalks and stopping on red lights because there was a pizza hut all-you-can-eat. It was also obvious that I won't be moving far after such a meal. At 5pm, I rolled out with 11 liters of water, ready to hit the Kokopelli trail, 140 miles of singletrack, jeep roads and occasional dirt road.
Wide open views and slickrock made this trail entertaining.
The setting sun, the distant ramble of the interstate and the buzzing mosquitoes.
Mixed morning of amazing singletrack and upper body workout during hike-a-bike sections.
The heat was tough but it didn't seem that bad. However I went throuh water rather quickly, by 3pm I had 3 of the 11 liters I started with, definitely not going to make it another day without a resupply.
Cisco turned to be a zombie apocalypse town, definitely no water.
Water or not the heat was too much, I skipped the second half of Kokopelli trail in favor of riding Castle Valley to Moab. At first I planned how I'd go and ride the White Rim Trail but as my head started pounding and the heat was too much… I started dreaming of snow, cold rain and frigid wind. I'm making a run for Montrose and then the Colorado trail!
100 miles, 50 of which was tough trail. I did not leave the golden arches until 9:30pm, camp was at 11, 10 miles down the road.
Steady climb until noon took me up to 8000ft then down and across a humongous canyon.
I've been looking for something all this time but don't know what. Today I found it.
Ice Cream.
Walking out of the store I got 2 cones, the cashier put it in a bag and I said, "Oh, I don't need a bag."
She gave me this look. 'What kind of a person eats two ice cream cones!'
Sunset over La Sal Mountains, best part of the day is munching chili, chips and yogurt. Reading and glancing at the sunset. Taking photos and inevitably ending up with too many.
An ATV pulled over, a woman with a genuine concern said:
"Why are you going this way? It's all uphill from here."
I couldn't think of what to say so I just laughed. We all did. They were here to hunt bears, I've been hoping all along to see some but didn't.
But I did see some Canadians! (Apparently there is a popular hut-to-hut ride you can do where they carry your food, water and beer to the next hut, sounds like a good gig!)
And then I saw something even better: The top!!! The Uncompaghre Plateau climbed to 10 000ft, a big move from being at about 3500 in Moab.
Aspen trees: the largest living organism on earth! Their roots are interconnected and they share minerals and nutrients. There's rumor of some fungus in Europe which may be larger…
Then it was all downhill to a friend's place in Montrose. I haven't had a proper rest day in two weeks, plus I need to figure out what's happening when I get to Antelope Wells and into Mexico!
Tony took me mountain biking and rafting. To his surprise, I fell off the boat only once.
I went to the visitor center to grab a map and was talking with two people there. Here is how the conversation ended.
"Yeah I'll go with Blackbear pass, looks like fun."
Both of them laughed.
When I left, Tony rode up Last Dollar road
Helmet is used for fruit storage of course.
On the way down I met a group from Kansas. They drove a pickup truck down Black Bear Pass. Keep that in mind as you scroll down few images.
Telluride felt like a pretty cool town. Jeeps rolling up and down the streets and a summer festival. I was too excited to be biking again to check it out.
Too bad I didn't meet anybody driving this.
I set up camp in a tiny gully at 12 200ft, time to see if that sleeping bag liner I got works well.
So here is another evening in the mountains, watching the colors dissipate from the peaks. Some turn golden, some red, others have been in the shadow for hours. The fading sun changes colors as it turns to yellow and orange and red. Purple then blue, that means its time for the moon and stars to come out. But that comes at a price, the cold.
What looked like the pass turned out to be an old mining road.
So where is the bike lane?
Traffic jam, it was fun seeing all the smiles on people's faces when they saw me rolling down.
A chily descent of abot 4000feet took me to Silverton where I sipped on a single cup of coffee for two hours while getting some sun.
Up again, more pushing than biking. A man stopped:
"You crazy S.O.B."
"Thank you!"
That's how I roll.
At the top I had my lunch with a man from Durango. He just drove up here to enjoy the view. We watched as few Colorado Trail hikers passed by. They refused my offer for food. What kind of a hiker refuses food?
I met two riders on the trail, we all pushed out bikes up to the first ridge.
Still going stove-less. It doesn't seem that bad at all but I am definitely looking forward to having warm foods again in New Mexico.
So Coyotes woke me up at 5. I figured I better get going, I haven't yet biked before sunrise this summer.
Spotted a bear! Early bird special.
"I thought you were a moose." Not what you want to hear… during hunting season.
While riding a particularly bushy and rocky section I came around a corner to see a bow hunter holding a handgun.
Who needs switchbacks anyway.
Type 3 fun. Fun but ruining the brake pads.
5500 vertical feet and one faceplant later I was in town.
I kind of forgot that the prices in some of these small towns can be ridiculous. Only grabbed a bag of bagels and some bananas. The pizza place on the other hand had a 16″ pizza. Which made for a huge lunch and enough left over for dinner, breakfast and lunch tomorrow!
2 uphill hours later…
Looks like I picked the right time to be here!
Found a luxurious campsite beside the road. I don't have much stuff but I am very good at making a mess.
Frigid morning meant stopping to warm up my fingers every 10-20 mins. Made few friends along the way.
An easy ride over Los Pinos pass finally took me to the junction with the GDMBR.
A bird swooped down from the sky to the field, not at a prey but at another bird. Odd. Angry birds…
Then things got shitty, literally. Fresh cow poop and puddles of uhh oh.. covered the road. A minefield!
Riding with the cowboys, feeling pretty badass and I finally got good at avoiding cow dung. That's when they stopped for a minute… and go figure every single cow had to relieve themselves… there was no safe zone.
Riding toward Penitente Canyon
Looking forward to a warmer night at lower elevation. It's so warm I even got a mosquito bite, things are looking good.
Stocked up on food and water from Del Norte. I am rolling without ACA maps this year so just GPS. Which is good but I don't really know how far next town is.
I wasn't feeling the climb out of town until I found a stream to dunk my head in.
Dividing by zero in the classroom means failing the test. Doing it in real life has far more devastating consequences.
After some 4000 vertical feet I got a chance to be a cowboy again! Man those dogs are so smart and efficient!
A little bit of up and down and I was at Platoro. Decent dinner, the menu read: "all burgers served with a mountain of fries." I've been doing mountains since Banff, Alberta. What's one more!
I pull off the road to camp as it's getting dark. Crap… my hands still smell like burger. I hope no bear comes…
One can judge how warm the morning is by the amount of snoozes on the alarm before getting up. I got 45 minites worth at 5min intervals!
After some pavement, I got on the road to New Mexico. And things are going to get rough.
So, what could have taken 4 days to ride, took 24. AND there's so much more to see in Colorado but that will have to wait for another year.
 Johan Georgiew